Nonvalvular Atrial Fibrillation (Online)
The AHA's Nonvalvular Atrial Fibrillation (Online) Course is an eLearning course that supports the 2014 AHA/ACC/HRS Guideline for the Management of Patients With Atrial Fibrillation: A Report of the American College of Cardiology/American Heart Association Task Force on Practice Guidelines and the Heart Rhythm Society, which was published in the journal Circulation in March 2014.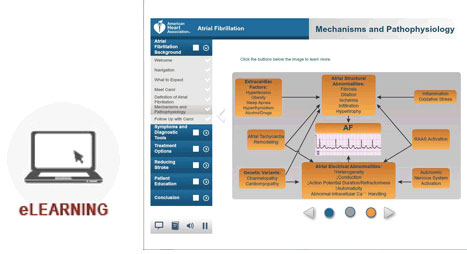 The Nonvalvular Atrial Fibrillation Course is a self-paced, continuing education (CE) product that requires participants to work through six patient cases with review questions. The course teaches the background, pathophysiology, symptoms, diagnostic tools, treatment options, stroke risks and patient education for atrial fibrillation.
How It Works: Students complete a series of online lessons and interactive questions. No skills session is required.
Audience:
This course is designed for physicians, nurses and pharmacists who provide care for patients with nonvalvular atrial fibrillation.
Features:
Self-paced eLearning course
The first CE (continuing education) course to cover the new 2014 AHA guidelines
Students have access to all information in the online course for 24 months, following activation of their course key
Average completion time for the online portion is 1 ½ hours
After passing the online test, participants can apply to receive CE credits, if desired. 
Online portion is compatible with Windows and MAC OS Operating Systems
Course Content:
Atrial Fibrillation background
Pathophysiology
Symptoms
Diagnostic tools
Treatment options
Stroke risks
Patient education
Course Materials:
Nonvalvular Atrial Fibrillation: 2014 Guidelines and Evidence-Based Practice Course Key (AHA product 90-1439)
Course Format/Time:
Online, self-paced course
Features six interactive modules that must be completed in order
Students must pass the online exam with a score of 84% or higher
Technical Requirements:
This course has been tested on Windows XP and Mac OSX, with Internet Explorer 8+ or Firefox 2+. Please do not use the Internet Explorer 10 browser with this course. Programs are not supported by Apple Safari.
Course Fee:
Purchase the online access key and classroom-based skills assessment
Initial (first-time) Providers: $60 (Access Key)
Renewing Providers: $55 (Access Key)
Certification:
A certificate of completion is provided upon successful completion of this course; this course does not offer an AHA course completion card.
Continuing Education:
Continuing Medical Education Accreditation—Physicians 
The American Heart Association is accredited by the Accreditation Council for Continuing Medical Education (ACCME) to provide continuing medical education (CME) for physicians.The American Heart Association designates this enduring material for a maximum of 1.25 AMA PRA Category 1 Credit™. Physicians should claim only the credit commensurate with the extent of their participation in the activity.
Continuing Medical Education Accreditation—Physician Assistants


The American Academy of Physician Assistants (AAPA) accepts certificates of participation for educational activities certified for AMA PRA Category 1 Credit™ from organizations accredited by ACCME or a recognized state medical society. Physician assistants may receive a maximum of 1.25 hours of Category I credit for completing this program.

Continuing Education Accreditation—Nurse Practitioners


American Academy of Nurse Practitioners (AANP) accepts AMA PRA Category 1 Credit™ from organizations accredited by the ACCME.

Continuing Education Accreditation—Nurses
The American Heart Association is accredited as a provider of continuing nursing education by the American Nurses Credentialing Center's (ANCC) Commission on Accreditation.The maximum number of hours awarded for this CE activity is 1.75 contact hours.
Continuing Education Accreditation—Pharmacists*


The American Heart Association is accredited by the Accreditation Council for Pharmacy Education (ACPE) as a provider of continuing pharmacy education. ACPE Credit: 1.00 Contact Hours or 1.50 CEUs. Universal Program Number: 0256-0000-14-702-H01-P.

*Please be advised, learners must claim CME/CE pharmacy credit within 30 days after an activity concludes.
Scheduling & Discounts:
Once the course fee has been received, our staff will give the student a Nonvalvular Atrial Fibrillation: 2014 Guidelines and Evidence-Based Practice Course Key (AHA product 90-1439 through email, phone, or at the facility to be used for online access to activate the course.
Codes will be emailed as soon as possible or within 48 hours of orders placed between 7:30am to 5:30pm PST Monday through Friday. If order is placed on Friday after 5:00 pm PST, then the key code may be emailed Monday morning.
Upon receipt of your access key code, activate and complete the ACLS course online at www.onlineaha.org, print out your online course completion certificate for your records.
PDRE offers some desktop and laptop computer access for the course. Limited seating(s) apply.
Please call us if you have any questions or for discounted group rates and seasonal promotions!
Sign Up Here:
Our AHA ACLS instructor, Dr. Nuqui, was very knowledgeable, experienced, supportive, and entertaining. Most of all, I really appreciated how well organized and engaging the initial provider course was conducted in a pleasant and comfortable learning environment. Not only was the training site facility brand-new but everything from the student materials, training AEDs, intubation equipment and manikins were up-to-date and in excellent condition.
I was very impressed with how professional and enjoyable my ACLS and PALS renewal classes were at Palm Desert Resuscitation Education! As an emergency medicine registered nurse working at Desert Regional Medical Center in Palm Springs, I wanted to be educated with the most commonly seen cardiac arrhythmias and their treatment but also needed classes that were attention grabbing and fun. Palm Desert Resuscitation Education instructors definitely kept my attention during the lengthy courses by having a balanced sense of humor, pertinent and brilliant instructions, and excellent case scenario discussions.
I highly recommend this training facility as your go-to CPR certification site for your healthcare job because Dr. Nuqui is not only passionate about saving lives but is awesome when it comes to teaching you the proper techniques of resuscitation including compressions, airway management, and defibrillator use. He shares his medical and teaching experiences while making you feel relaxed, stimulated, and well informed with the current AHA guidelines. He taught me exactly what I needed to know to be ready when cardiac arrest happens.
During my Basic Life Support (BLS) class, I was given all of the necessary skills to be confident and not be afraid if ever one of my patients or family members collapses due to a heart condition, such as a heart attack. PDRE's instructors and staff provide a very friendly, informative, humorous, interesting, and stress-free class that makes me want to personally refer all of my friends and family to do their CPR training at PDRE. Do not hesitate to try the best American Heart Association courses in the Desert Cities!
As an elementary teacher who needed to be responsible for many students, I wanted to learn first aid basics and CPR in case I encounter a time when one of my students may either be choking, bleeding, seizes, faints, breaks a bone, sprains a muscle, becomes allergic, passes out, and experiences other first aid emergencies. Palm Desert Resuscitation Education's first aid basics and CPR classroom course, which were held in our elementary school, was the perfect out-of-site learning setting to practice first aid basics and CPR for medical and injury emergencies. All of the staff and school employees are truly thankful and now self-assured to be able to provide possible practical first aid basics and CPR to our students, associates, friends or relatives. From my experience, Palm Desert Resuscitation Education quite honestly has the greatest, most efficient and personable instructors teaching top-of-the-line healthcare certification courses.
Dr. Nuqui and his staff were truly amazing when I needed my BLS certification for my personal training business. He was very efficient and thorough with all of the course content and materials including the new guideline changes so that we are all up-to-date when it comes to performing effective CPR and step-by-step use of an AED. It was very easy to listen to him because he is not only a great instructor but is outgoing and personable. He really made the class enjoyable and easy to understand. I would definitely go back here for my BLS recertification.
Being a member of an exclusive golf club in the Palm Springs area, I was surprised by how much I learned in adult CPR and AED use, first aid basics, medical emergencies, injury emergencies, and environmental emergencies during an exciting and educational course held by Dr. Nuqui and other instructors in our private Club House. You never know when someone needs help, especially when we are out in the golf course, and those minutes before the first responders get to our location can be vital. Thus, those important medical techniques that Dr. Nuqui presented to us clearly could possibly save one of our participant's lives. I now feel very comfortable that our golf club members were trained the proper way and can respond to almost any medical emergency.