2018 Thanksgiving Day 5K Run
Benefiting Martha's Village & Kitchen

A Replenish 360, A Division of PDRE LLC – IV Hydration Therapy Partnership
Replenish 360, A Division of PDRE LLC, was honored to be a part of the 2018 Thanksgiving Day 5K Benefiting Martha's Village & Kitchen.
We are proud to help raise money and awareness to one of our local nonprofit affiliates, Martha's Village and Kitchen, to provide homeless services in the Coachella Valley and Riverside County. Martha's Village and Kitchen justly and charitably serves meals to their homeless and indigent neighbors and provides one-of-a-kind programs that break the cycle of impoverishment and homelessness.
The Desert Sun | Palm Springs and Coachella Valley News was also in attendance to enjoy the festivities and promote the charitable and wellness event of Martha's Village & Kitchen's 5K Holiday Run thanks in part to the locally circulated article by Ms. Carol Stephen Smith of The Desert Sun on December 22, 2018:
"Hundreds of men, women, and children, along with several dogs and one cat – YES, there was a cat there too – showed up early on Thanksgiving Day to run, walk and trot a 5K route with the proceeds benefiting Martha's Village and Kitchen (Martha's).
Martha's began in 1990 when the founders began serving food to their homeless neighbors.  And it grew from there.  They now have 120 beds to offer the homeless a safe place to sleep.  Meals are provided to over 6000 locally impoverished adults and children annually.  Holiday meals such as Thanksgiving and Christmas are huge events and help those in need feel part of the community.
This year many local businesses were on hand to feed, hydrate and massage weary participants.  Replenish 360, IV Hydration Therapy, offered advice on staying hydrated, pain relief for athletes and weekend warriors alike, and handed out backpacks filled with goodies."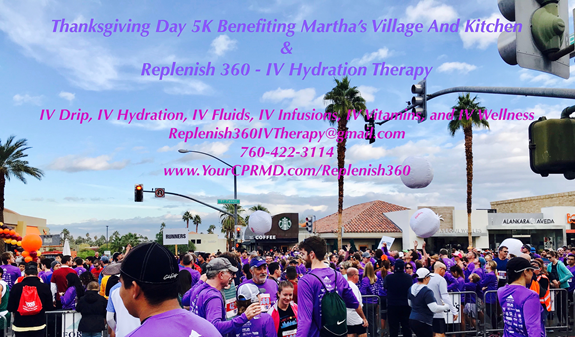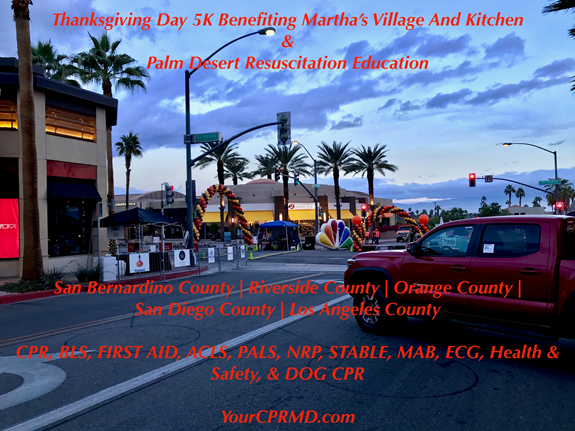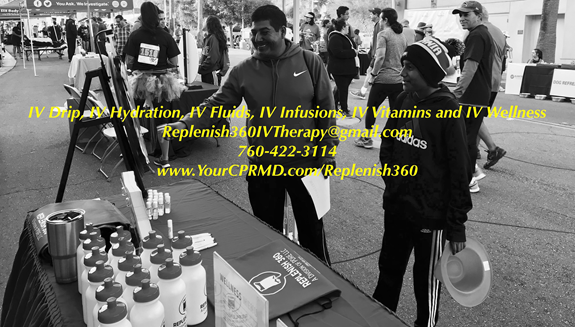 Martha's Village & Kitchen is one of the largest providers of homeless services in the Coachella Valley and Riverside County
Martha's Village & Kitchen is one of the largest providers of homeless services in the Coachella Valley and Riverside County. Martha's began in 1990 when the founders served meals to their homeless neighbors. Today, from its campus in Indio, CA, Martha's Village offers unique life-changing programs based on the nationally recognized "continuum of care model" breaking the cycle of homelessness.
Through this gateway to hope, people regain their lives becoming responsible, self-sufficient and productive citizens, while passing on their newfound independence and life skills to their children and families. Changing one person's life, changes generations of lives.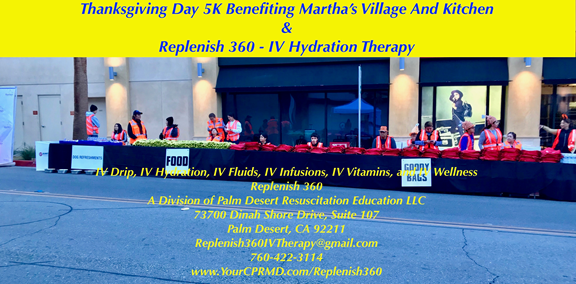 Vision
We envision a community where all people have the opportunity to live to their full potential; where everyone has food, housing, healthcare, education and the means to maintain them.
Creed
Compassion: Concern for others and a desire to assist
Respect: An act of giving particular attention or special regard
Empathy: Understanding, an awareness of and sensitivity to the feelings of others
Empowerment: Helping others to help themselves
Dignity: Counting all people worthy of our esteem
Mission
Martha's is a safe, welcoming environment for impoverished and homeless families, children, and individuals, providing a proven robust selection of housing, education, and support services so that they are empowered to transform their lives with dignity. Martha's collaborates and partners with other organizations and agencies to leverage resources and fill gaps to ensure the effectiveness and long term sustainability of the organization and to break the cycle of poverty for the people we serve.
Impact Report
Please see the exciting impact that Martha's Village and Kitchen has had in the entire Coachella Valley over the past year!
Palm Desert IV Hydration Therapy
Replenishing your mind and body, restoring you to your best self, and improving your health and everyday performance.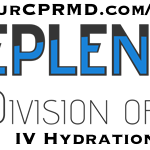 Replenish 360

offers one of the most affordable wellness and preventative services that are personalized and one of the most activating one-of-a-kind IV drip and infusions, vitamin and antioxidant supplementation, micronutrient therapy, and other additional supplementary wellness services to

"renew your body, refresh your mind, and restore performance."
Add Ons
Available when purchased with a hydration package listed above!
A La Carte Services
Don't have time for an IV infusion but need a much needed energy boost, pain relief for your headache and muscles, or just queasy from the weekend? Look no further and try our A La Carte Services!
EXPERIENCE RELIEF!!!
GOODBYE
dehydration
fatigue
cold & flu symptoms
headache & migraines
chronic pain
stress and anxiety
insomnia
HELLO
hydration
vibrant energy
immune support
pain relief
muscle rebound
sharper focus
better sleep

WHAT IS IV THERAPY?
Hydration is vital for maintaining wellness and performance. Our IVs dispense essential fluids and nutrients into the bloodstream, activating cellular absorption. A single hydration treatment takes about an hour to administer.
WHAT ARE THE BENEFITS?
If you're feeling dull and depleted, hydration therapy can instantly revive you.
• boost your energy • heighten your focus • alleviate a hangover • hasten muscle recovery
• ease a migraine • curb cold symptoms • relieve acute pain • improve overall well being
IS IT PAINFUL?
You may feel a slight pinch when the needle meets your skin, but most people report little to no pain. You can take a nap or browse social media while the infusion is underway. Dr. Nuqui has assembled a team of licensed medical professionals to ensure your experience is comfortable and sanitary.
Looking for IV hydration therapy in California…
around the city of PALM DESERT?
Look no further!  Our mission statement is reflected in our motto above and it is what we always strive for whenever you come into our one-of-kind and relaxing IV Hydration Therapy and Wellness Clinic in certain cases when you may be sniffling and whimpering through a mild cold and flu with or without nausea and vomiting, the "runs" from a bug that you unfortunately caught after consumption of contaminated food, had a bit of a hangover from the once-in-a-lifetime party or special occasion you gladly experienced the night before, a competitive athlete who needs to boost their performance and recovery with IV hydration post-intense workout, or just worn out because of a red-eye jet lag and you have not had the chance to drink enough water and nutrients throughout your busy schedule and the days work. These are small but prime examples of different types of sometimes unavoidable life occurrences which may not be averted entirely and may probably lead to your mild to moderate dehydration and the sequelae of uncomfortable signs and symptoms stemming from the lack of daily oral water and vitamin intake.
It is, therefore, only merited that our sole mission is to commit ourselves to reviving and helping healthy people recover from these unforeseen instances of mild to moderate dehydration by administering intravenous (IV) hydration fluids and other stabilizing and wellness services via our mobile and brick/mortar hydration clinic to replenish your mind and body, restore you to your best self, and improve your health and everyday performance.
We want to be your service and facility of choice for your hydration and wellness needs not only in our state-of-the-art and tranquil IV Hydration Therapy and Wellness Clinic but also at the comfort of your own home or hotel room; your special personal events such as weddings, Bar Mitzvahs, birthdays, and other special life celebrations; public events like music festivals, Desert Trip, and other hot music festivals and concerts; your local bars, pubs, taverns, night clubs, dance clubs, and other entertainment venues; and immersed in sporting events at your native gym or in your football, basketball, soccer, baseball, tennis, golf practices, tournaments and games!