Basic Life Support (BLS) Guidelines
What are the key issues and major changes in the 2015 Guidelines Update recommendations for Basic Life Support (BLS) that Palm Desert Resuscitation Education will review during your classroom-based or online initial and renewal course?
New Science Updates for Adult, Child, and Infant Basic Life Support (BLS)
and CPR Quality for Healthcare Providers:
According to the new American Heart Association (AHA) 2015 Guidelines for Cardiopulmonary Resuscitation (CPR) and Emergency Cardiovascular Care (ECC), the AHA Instructors must now recognize the fresh and latest guidelines, recommendations, and changes for BLS.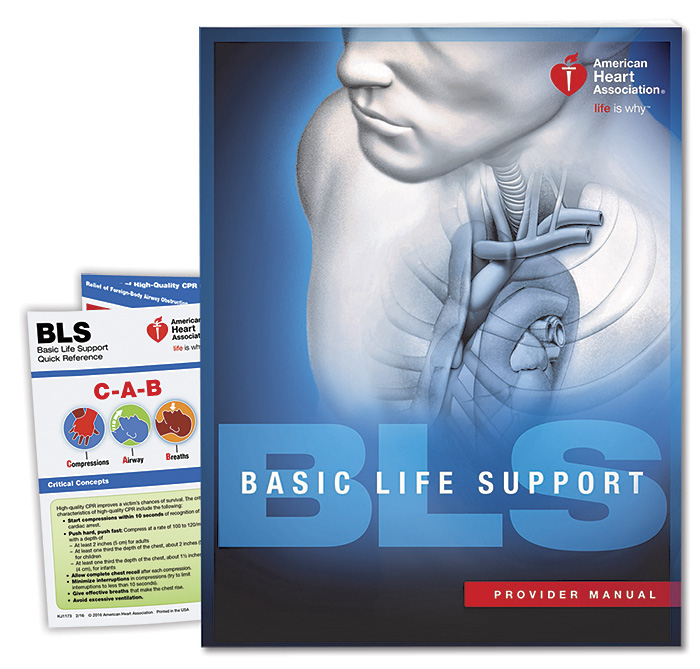 Palm Desert Resuscitation Education (PDRE) recognizes the importance of keeping up-to-date with AHA guidelines, recommendations, and changes such as the contents that will be discussed when you attend PDRE's classroom-based, online, and out-of-site course(s). Some updated information and scientific rationale on the following will be provided during the video-based lecture, practice-while-watching activities, and stand-alone practice sessions:
Immediate recognition and activation of the emergency response system
Emphasis on chest compressions
Shock first versus CPR first
Chest compression rate
Chest compression depth
Chest recoil
Minimize interruptions in chest compressions
Ventilation during CPR with an advanced airway (all ages)
During your time at PDRE's BLS class, you will understand the importance of "in hospital cardiac arrest (IHCA) and out of hospital cardiac arrest (OHCA)" chains of survival. There are minor differences between IHCA and OHCA that may be important to note in the first few moments of cardiac arrest.
WEST FROM PDRE
Redlands (92373, 92374, 92375)
Morongo Valley (92256)
Cabazon (92230)
Banning (92220)
Beaumont (92223)
Yucaipa (92399)
San Jacinto (92581, 92582, 92583)
Hemet (92543, 92544, 92545, 92546)
Temecula (92589, 92590, 92591, 92592, 92593)NORTH FROM PDRE
Twentynine Palms (92277, 92278)
Yucca Valley (92284, 92286)
Big Bear Lake (92315)
EAST FROM PDRE
Joshua Tree (92252)
Salton Sea (92275)
Brawley (92227)
El Centro (92243, 92244)
Blythe (92225, 92226)
Calexico (92231, 92232)SOUTH FROM PDRE
Borrego Springs (92004)
Anza (92539)
Our AHA ACLS instructor, Dr. Nuqui, was very knowledgeable, experienced, supportive, and entertaining. Most of all, I really appreciated how well organized and engaging the initial provider course was conducted in a pleasant and comfortable learning environment. Not only was the training site facility brand-new but everything from the student materials, training AEDs, intubation equipment and manikins were up-to-date and in excellent condition.
I was very impressed with how professional and enjoyable my ACLS and PALS renewal classes were at Palm Desert Resuscitation Education! As an emergency medicine registered nurse working at Desert Regional Medical Center in Palm Springs, I wanted to be educated with the most commonly seen cardiac arrhythmias and their treatment but also needed classes that were attention grabbing and fun. Palm Desert Resuscitation Education instructors definitely kept my attention during the lengthy courses by having a balanced sense of humor, pertinent and brilliant instructions, and excellent case scenario discussions.
I highly recommend this training facility as your go-to CPR certification site for your healthcare job because Dr. Nuqui is not only passionate about saving lives but is awesome when it comes to teaching you the proper techniques of resuscitation including compressions, airway management, and defibrillator use. He shares his medical and teaching experiences while making you feel relaxed, stimulated, and well informed with the current AHA guidelines. He taught me exactly what I needed to know to be ready when cardiac arrest happens.
During my Basic Life Support (BLS) class, I was given all of the necessary skills to be confident and not be afraid if ever one of my patients or family members collapses due to a heart condition, such as a heart attack. PDRE's instructors and staff provide a very friendly, informative, humorous, interesting, and stress-free class that makes me want to personally refer all of my friends and family to do their CPR training at PDRE. Do not hesitate to try the best American Heart Association courses in the Desert Cities!
As an elementary teacher who needed to be responsible for many students, I wanted to learn first aid basics and CPR in case I encounter a time when one of my students may either be choking, bleeding, seizes, faints, breaks a bone, sprains a muscle, becomes allergic, passes out, and experiences other first aid emergencies. Palm Desert Resuscitation Education's first aid basics and CPR classroom course, which were held in our elementary school, was the perfect out-of-site learning setting to practice first aid basics and CPR for medical and injury emergencies. All of the staff and school employees are truly thankful and now self-assured to be able to provide possible practical first aid basics and CPR to our students, associates, friends or relatives. From my experience, Palm Desert Resuscitation Education quite honestly has the greatest, most efficient and personable instructors teaching top-of-the-line healthcare certification courses.
Dr. Nuqui and his staff were truly amazing when I needed my BLS certification for my personal training business. He was very efficient and thorough with all of the course content and materials including the new guideline changes so that we are all up-to-date when it comes to performing effective CPR and step-by-step use of an AED. It was very easy to listen to him because he is not only a great instructor but is outgoing and personable. He really made the class enjoyable and easy to understand. I would definitely go back here for my BLS recertification.
Being a member of an exclusive golf club in the Palm Springs area, I was surprised by how much I learned in adult CPR and AED use, first aid basics, medical emergencies, injury emergencies, and environmental emergencies during an exciting and educational course held by Dr. Nuqui and other instructors in our private Club House. You never know when someone needs help, especially when we are out in the golf course, and those minutes before the first responders get to our location can be vital. Thus, those important medical techniques that Dr. Nuqui presented to us clearly could possibly save one of our participant's lives. I now feel very comfortable that our golf club members were trained the proper way and can respond to almost any medical emergency.